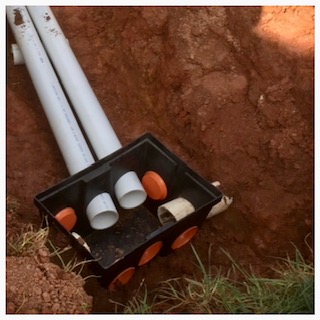 The distribution box is located between the septic tank and the drainfield. Its purpose is to evenly disperse the effluent from the tank to the lines. This helps to prevent overloading and will maximize the life of the system.
The distribution box is made of concrete or plastic. Proper installation is crucial so that the D-box is level. Over time, tilting may occur so we recommend having your distribution inspected during your septic service.
Action Septic Tank Service is located in Alpharetta, GA, in North Fulton County. We continue to service Metro Atlanta/North Atlanta for over 25 years. We are open daily from 7 AM - 9 PM and also provide emergency service.
Septic pumping, septic cleaning, maintenance, inspections, installations, line repair and replacement, drainfield repair and replacement, hydro jetting, sewer line cleaning, sewer line repair and replacement, dry wells, alternative systems, backhoe work, backflow prevention, excavating, septic treatments, grease trap cleaning and care
Cherokee County, Cobb County, DeKalb County, East Cobb County, Fayette County, Forsyth County, Fulton County, Gwinnett County, North Fulton County, South Forsyth County, West Cobb County