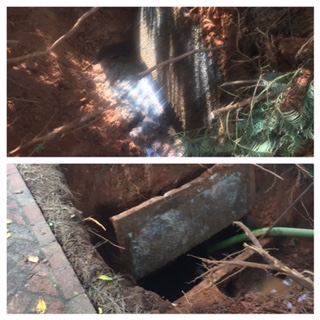 In Johns Creek, GA, Action Septic Tank Service pumped this 1500-gallon septic tank. The tank became completely overloaded due to tree root intrusion. See the attached photos.
Septic overloading leads to sewage backups and system failure. When sewage backs up, the surfacing effluent is left untreated. This poses a health risk because of possible contamination.
Other causes for septic overloading and system failure are often due to improper use and maintenance, inadequate septic design and incorrect installation. Here are some ways you can help prevent septic system overloading and failure.
Conserve water.
Avoid installing your irrigation system near your drainfield.
Divert greywater away from your septic system.
Have your inlet and outlet baffles checked to be certain they're in good condition.
Install a septic filter.
Only plant grass over your septic system.
Avoid flushing plastics, coffee grinds, kitty litter, baby wipes, sanitary products, grease, pesticides and fertilizers down your drains.
Pump your septic tank every 2-3 years.
Treat your septic system monthly.
Schedule a proper site evaluation before installing your septic system.
Consider your water usage when installing your septic system to help prevent hydraulic overloading.
Make sure to install a septic tank that is appropriately sized for your home.
Install drainfield lines that are leveled.
Completely avoid parking or driving heavy equipment and machinery over your septic system.
For more septic information and service, call Action Septic Tank Service at 770-922-1434 and visit our website, Action Septic Tank Service.
Action Septic Tank Service is located in Alpharetta-Milton, GA in North Fulton County. We provide residential, commercial and industrial septic and sewer service for North Atlanta, Metro Atlanta and surrounding areas. We are open daily from 7:00 AM - 10:00 PM and also provide emergency service.
Septic and Sewer Services: septic pumping, septic cleaning, maintenance, inspections, installations, line repair and replacement, drainfield repair and replacement, hydro jetting, sewer line cleaning, sewer line repair and replacement, dry wells, alternative systems, backhoe work, backflow prevention, excavating, septic treatments, grease trap cleaning and care
North Atlanta – Metro Atlanta Service Areas: Acworth, Alpharetta, Atlanta, Brookhaven, Buckhead, Buford, Canton, Crabapple, Cumming, Duluth, Dunwoody, East Cobb, Gainesville, Gwinnett, Holly Springs, Johns Creek, Lanier, Marietta, Metro Atlanta, Milton, Norcross, North Atlanta, North Fulton, Peachtree Corners, Roswell, Sandy Plains, Sandy Springs, South Forsyth, Sugar Hill, Suwanee, Waleska, West Cobb, Woodstock
North GA Counties: Barrow County, Cherokee County, Cobb County, Dawson County, DeKalb County, East Cobb County, Fayette County, Forsyth County, Fulton County, Gwinnett County, Hall County, North Fulton County, South Forsyth County, West Cobb County