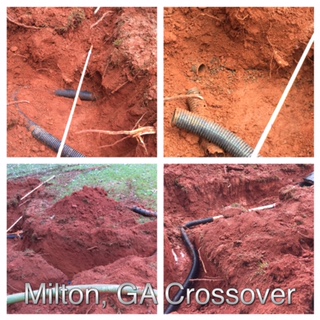 In Milton, GA, Action Septic Tank Service performed a crossover. See the attached photo grid for some of our work.
For this onsite septic project, the drainfield was blocked due to root intrusion and sludge.  This caused 75% of the system to not function properly. The drainfield would not accept the water from the septic tank. This forced the water level inside the tank to overfill and backup into the house.  The toilets flushed very slowly and wouldn't fully drain.
To repair, Action Septic Tank Service removed the outlet tee and blocked line going out from the back of the septic tank. We also pumped out the roots and sludge from the clogged line in the drainfield.  We added a new tee and crossed the line into a dry section of the drainfield.  Now the drainfield has an opportunity to flow in different directions.
Septic and drainfield failures are often caused by poor maintenance, root intrusion, too much organic matter in the effluent, soil that is overly saturated from storm water, hydraulic overloading, parking and driving vehicles and heavy machinery over the septic system, cracked pipes, and improper septic design, location and installation.
For more septic information and service, call Action Septic Tank Service at 770-922-1434 and continue to visit our website, Action Septic Tank Service.
Action Septic Tank Service is located in Alpharetta-Milton, GA in North Fulton County. We provide residential, commercial and industrial septic and sewer service for North Atlanta, Metro Atlanta and surrounding areas. We are open daily from 7 AM – 10 PM.
Septic and Sewer Services: septic pumping, septic cleaning, maintenance, inspections, installations, line repair and replacement, drainfield repair and replacement, hydro jetting, sewer line cleaning, sewer line repair and replacement, dry wells, alternative systems, backhoe work, backflow prevention, excavating, septic treatments, grease trap cleaning and care
North Atlanta – Metro Atlanta Service Areas: Acworth, Alpharetta, Atlanta, Brookhaven, Buckhead, Buford, Canton, Crabapple, Cumming, Duluth, Dunwoody, East Cobb, Gainesville, Gwinnett, Holly Springs, Johns Creek, Lanier, Marietta, Metro Atlanta, Milton, Norcross, North Atlanta, North Fulton, Peachtree Corners, Roswell, Sandy Plains, Sandy Springs, South Forsyth, Sugar Hill, Suwanee, Waleska, West Cobb and Woodstock
North GA Counties: Barrow County, Cherokee County, Cobb County, Dawson County, DeKalb County, East Cobb County, Fayette County, Forsyth County, Fulton County, Gwinnett County, Hall County, North Fulton County, South Forsyth County and West Cobb County