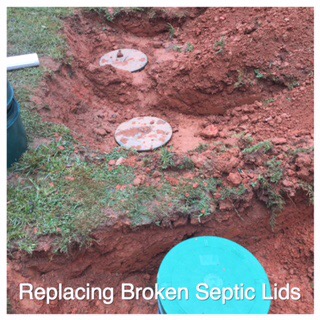 SAVE $35 on your septic pumping with Action Septic Tank Service, located in Alpharetta - Milton, GA. Beware of the septic scams. Our septic pumping prices do not include any add-on costs. For 20+ years, Action Septic Tank Service continues to give upfront, flat-rate pricing.
In Alpharetta - Johns Creek, GA, Action Septic Tank Service replaced broken septic lids on a homeowner's septic tank. See the attached photo.
Rainy weather affects your septic system. The drainfield, or soil absorption system, is designed to manage a certain amount of water. When rainwater fills the septic system, there's less available space for wastewater collection.
To help avoid rain infiltration, your septic tank should be watertight, otherwise rainwater can enter the system and allow sewage to seep into the drainfield. Septic riser lids need not be broken and must be properly sealed. Broken riser lids like the ones shown in the attached photo have to be replaced. Careful landscape planning is important so that runoff water is directed away from your drainfield.
Continue to monitor your septic system especially during rainy weather. Signs of rain infiltration may include patches of greener grass in your yard, depressions in the ground over the septic tank and surfacing effluent.
For more septic information and service, call Action Septic Tank Service at 770-922-1434. Please continue to visit our website.
Call Action Septic Tank Service at 770-922-1434 and redeem your $35 septic pumping SAVINGS.  Our septic and sewer services include: septic pumping, septic cleaning, maintenance, inspections, installations, drainfield repair and replacement, line repair and replacement, sewer line cleaning, sewer line repair and replacement, hydro jetting, dry wells, alternative systems, backflow prevention, septic treatments and grease trap cleaning and care.
North Atlanta Service Areas: Acworth, Alpharetta, Atlanta, Brookhaven, Buckhead, Buford, Canton, Crabapple, Cumming, Duluth, Dunwoody, East Cobb, Gwinnett, Holly Springs, Johns Creek, Marietta, Metro Atlanta, Milton, Norcross, North Atlanta, North Fulton, Peachtree Corners, Roswell, Sandy Springs, South Forsyth, Suwanee, Waleska, West Cobb and Woodstock
North GA Counties: Barrow County, Cherokee County, Cobb County, Dawson County, DeKalb County, East Cobb County, Fayette County, Forsyth County, Fulton County, Gwinnett County, Hall County, North Fulton County, South Forsyth County and West Cobb County Cobb County