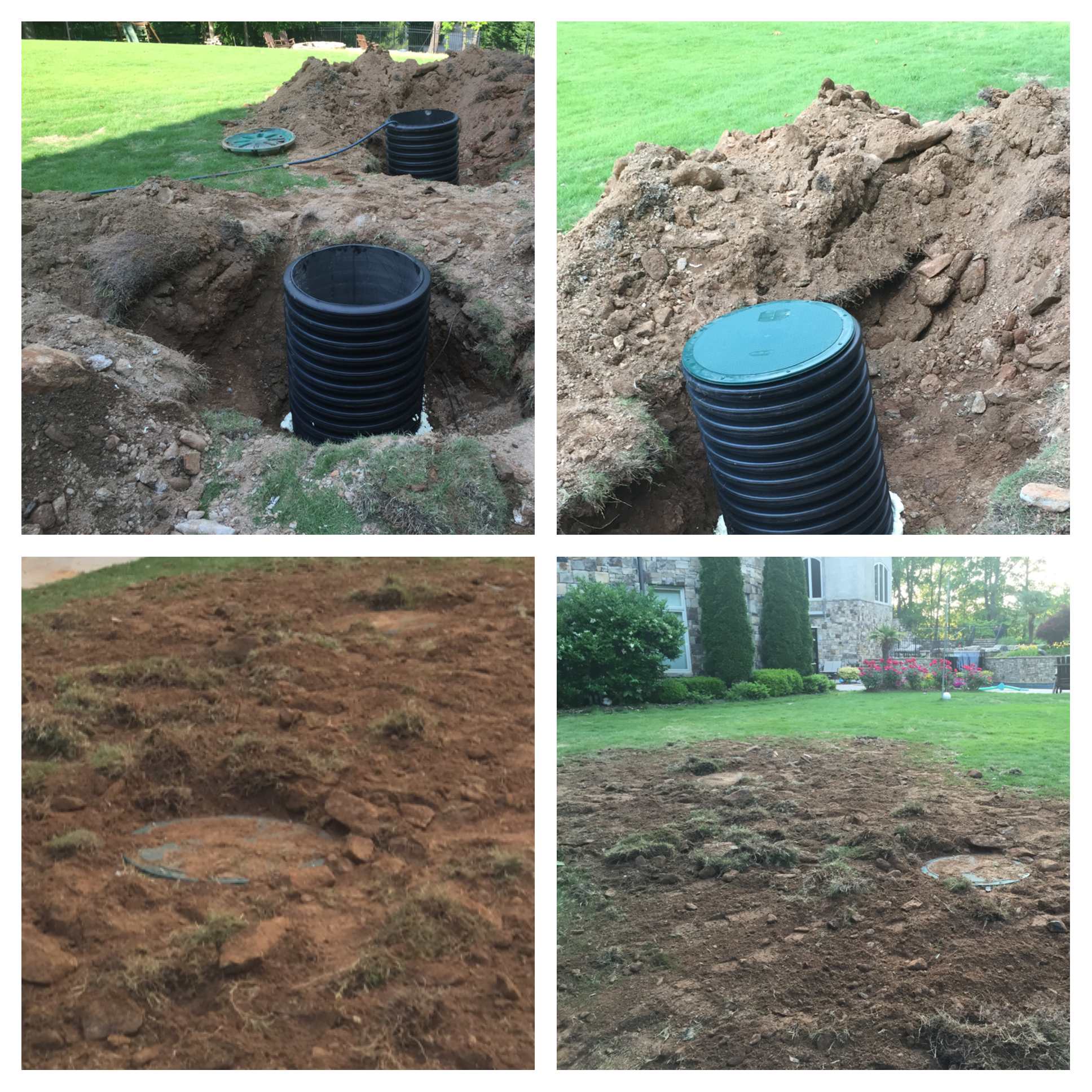 In Milton, GA, Action Septic Tank Service added access risers to the septic tank. Please view the attached photo grid.
Upgrading your septic tank will help to improve system function and protect your drainfield. Consider installing access risers, adding an effluent screen and/or putting in a two-compartment tank.
Installing access risers makes it easy to locate the septic tank and allows access for maintenance and repair without having to dig up the yard. They are cost effective, won't deteriorate and rot over time and are easier to install. PVC risers have lightweight fiberglass lids that cannot be removed without proper equipment.
An effluent screen is a filter that fits into the outlet end of the septic tank. It allows the water to pass through the tank into the soil absorption area while catching the solids. This keeps the drainfield from clogging and eventually failing. Effluent screens require little maintenance, are cost effective and can be installed into existing septic tanks.
If you're installing a new septic tank, think about getting one with two compartments. These tanks are larger, trap the solids more effectively and better protect the drainfield.
For more septic information and service, please call 770-922-1434 and visit our website, Action Septic Tank Service.
Action Septic Tank Service is located in Alpharetta-Milton, GA in North Fulton County. We provide residential, commercial and industrial septic and sewer service for North Atlanta, Metro Atlanta and surrounding areas. We are open daily from 7:00 AM - 10:00 PM and also provide emergency service.
Septic and Sewer Services: septic pumping, septic cleaning, maintenance, inspections, installations, line repair and replacement, drainfield repair and replacement, hydro jetting, sewer line cleaning, sewer line repair and replacement, dry wells, alternative systems, backhoe work, backflow prevention, excavating, septic treatments, grease trap cleaning and care
North Atlanta – Metro Atlanta Service Areas: Acworth, Alpharetta, Atlanta, Brookhaven, Buckhead, Buford, Canton, Crabapple, Cumming, Decatur, Duluth, Dunwoody, East Cobb, Gainesville, Gwinnett, Holly Springs, Johns Creek, Lanier, Marietta, Metro Atlanta, Milton, Norcross, North Atlanta, North Fulton, Peachtree Corners, Roswell, Sandy Plains, Sandy Springs, South Forsyth, Sugar Hill, Suwanee, Waleska, West Cobb, Woodstock
North GA Counties: Barrow County, Cherokee County, Cobb County, Dawson County, DeKalb County, East Cobb County, Fayette County, Forsyth County, Fulton County, Gwinnett County, Hall County, North Fulton County, South Forsyth County, West Cobb County