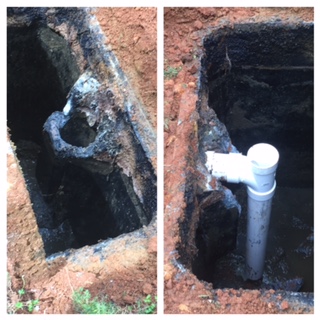 In Alpharetta, GA, Action Septic Tank Service replaced a deteriorated outlet baffle with a PVC sanitary tee. See the before-and-after photos attached.
Septic tanks should have an inlet and outlet baffle at the inlet and outlet ends. Both should be checked during a septic inspection and/or service.
The inlet baffle directs flow from the house sewer down to the septic tank, detains the sewage and allows the solids to settle. This creates the sludge on the bottom of the tank. The inlet baffle also keeps the scum from plugging up the inlet pipe.
The outlet baffle prevents floating scum and sewage from exiting the septic tank and entering and clogging the drainfield. Many times, an effluent screen is added at the outlet baffle to also keep the scum and sludge from leaving the tank.
Baffles must be properly installed and connected so they are accessible for inspection, repair and replacement. Effluent screens should be properly cleaned as well.
For more septic information and service, please call 770-922-1434 and visit Action Septic Tank Service.
Action Septic Tank Service is located in Alpharetta-Milton, GA in North Fulton County. We provide residential, commercial and industrial septic and sewer service for North Atlanta, Metro Atlanta and surrounding areas. We are open daily from 7:00 AM - 10:00 PM and also provide emergency service.
Septic and Sewer Services: septic pumping, septic cleaning, maintenance, inspections, installations, line repair and replacement, drainfield repair and replacement, hydro jetting, sewer line cleaning, sewer line repair and replacement, dry wells, alternative systems, backhoe work, backflow prevention, excavating, septic treatments, grease trap cleaning and care
North Atlanta – Metro Atlanta Service Areas: Acworth, Alpharetta, Atlanta, Brookhaven, Buckhead, Buford, Canton, Crabapple, Cumming, Decatur, Duluth, Dunwoody, East Cobb, Gainesville, Gwinnett, Holly Springs, Johns Creek, Lanier, Marietta, Metro Atlanta, Milton, Norcross, North Atlanta, North Fulton, Peachtree Corners, Roswell, Sandy Plains, Sandy Springs, South Forsyth, Sugar Hill, Suwanee, Waleska, West Cobb, Woodstock
North GA Counties: Barrow County, Cherokee County, Cobb County, Dawson County, DeKalb County, East Cobb County, Fayette County, Forsyth County, Fulton County, Gwinnett County, Hall County, North Fulton County, South Forsyth County, West Cobb County