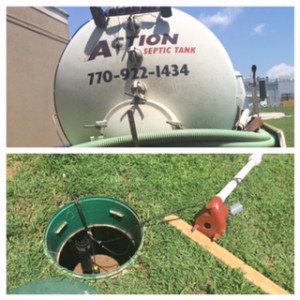 In Alpharetta, GA, Action Septic Tank Service pumped a commercial septic tank. Servicing your septic system on a routine basis will help to improve its performance. We highly recommend scheduling annual septic inspections and pumping your tank every 2-3 years.
Conventional septic systems include a septic tank, distribution box and soil absorption system. Inside the septic tank, the solid and liquid wastes are separated. The sludge settles to the bottom of the tank, the scum floats to the top and the wastewater makes up the middle layer. Before the wastewater is distributed to the ground, it is further treated by the soil absorption system.
When septic systems fail, untreated wastewater is released into the soil. You may notice some of the following in and around your home or business: pooling effluent around your septic tank or drainfield, foul odors, slow drains, gurgling toilets and patches of greener grass in your yard.
Failing septic systems are harmful and can leak bacteria to rivers, lakes and oceans. Untreated wastewater contains waterborne pathogens and can spread diseases to animals and humans.
Action Septic Tank Service urges you to properly care for your septic system. Suggestions include servicing your system on a regular basis, conserving water, installing water-saving faucets and shower heads, maintaining detailed records, keeping a drawing of your system on file, running downspouts away from your home or business, preventing fats, oils, grease and other non-biodegradables from going down your drains and growing only grass above your septic system.
For more information and service, call Action Septic Tank Service at 770-922-1434. We are open daily, from 7:00 AM – 10:00 PM.
Action Septic Tank Service is located in Alpharetta-Milton, GA. We provide complete septic and sewer service for North Atlanta. This includes: septic pumping, septic cleaning, maintenance, inspections, installations, drainfield repair and replacement, line repair and replacement, sewer line cleaning, sewer line repair and replacement, dry wells, alternative systems, backflow prevention, septic treatments and grease trap cleaning and care.
North Atlanta Service Areas: Acworth, Alpharetta, Atlanta, Brookhaven, Buckhead, Buford, Canton, Crabapple, Cumming, Duluth, Dunwoody, East Cobb, Gwinnett, Holly Springs, Johns Creek, Marietta, Metro Atlanta, Milton, Norcross, North Atlanta, North Fulton, Peachtree Corners, Roswell, Sandy Springs, South Forsyth, Suwanee, Waleska, West Cobb and Woodstock
North GA Counties: Barrow County, Cherokee County, Cobb County, Dawson County, DeKalb County, East Cobb County, Fayette County, Forsyth County, Fulton County, Gwinnett County, Hall County, North Fulton County, Paulding County, South Forsyth County, Walton County and West Cobb County