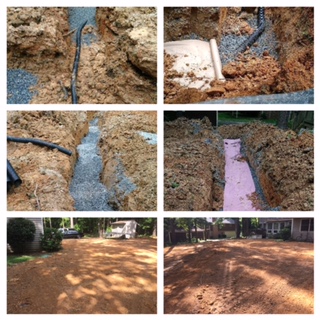 In Cumming, GA, Action Septic Tank Service installed a new drainfield using a gravel system. See the attached photos showing some of our actual work.
For this particular system, the customer experienced a septic backup and saw surfacing effluent in his yard. After initially assessing the situation, Action Septic Tank Service planned to repair the drainfield by adding to the chambers already in place to allow for more system capacity. However, when we dug down to tie into the chambers, we noticed they had been improperly installed and were collapsed. The collapsed chambers could no longer hold any water because the space underneath became filled with mud. Hence, the system failed and water came up in the yard.
To fix the problem, we opted to install a drainfield, this time using a gravel system. This would keep the lines placed in a more customized layout, at a shallower depth and in good soil conditions with a better perculation rate.
For more septic information and service, call Action Septic Tank Service at 770-922-1434 and visit our website, Action Septic Tank Service.
Action Septic Tank Service is located in Alpharetta-Milton, GA in North Fulton County. We provide residential, commercial and industrial septic and sewer service for North Atlanta, Metro Atlanta and surrounding areas. We are open daily from 7:00 AM - 10:00 PM and also provide emergency service.
Septic and Sewer Services: septic pumping, septic cleaning, maintenance, inspections, installations, line repair and replacement, drainfield repair and replacement, hydro jetting, sewer line cleaning, sewer line repair and replacement, dry wells, alternative systems, backhoe work, backflow prevention, excavating, septic treatments, grease trap cleaning and care
North Atlanta – Metro Atlanta Service Areas: Acworth, Alpharetta, Atlanta, Brookhaven, Buckhead, Buford, Canton, Crabapple, Cumming, Duluth, Dunwoody, East Cobb, Gainesville, Gwinnett, Holly Springs, Johns Creek, Lanier, Marietta, Metro Atlanta, Milton, Norcross, North Atlanta, North Fulton, Peachtree Corners, Roswell, Sandy Plains, Sandy Springs, South Forsyth, Sugar Hill, Suwanee, Waleska, West Cobb and Woodstock
North GA Counties: Barrow County, Cherokee County, Cobb County, Dawson County, DeKalb County, East Cobb County, Fayette County, Forsyth County, Fulton County, Gwinnett County, Hall County, North Fulton County, South Forsyth County and West Cobb County