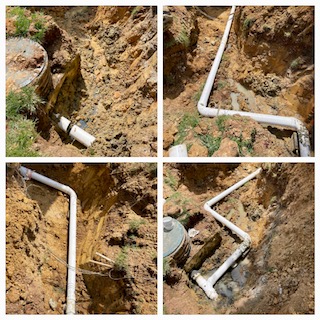 In Sandy Springs, Action Septic Tank Service repaired a backed up system.
The water level inside the tank was high and water was also seeping out. The water was not reaching all of the drainfield lines.
To repair, we performed a crossover. We properly reconnected all of the lines to get the system flowing.
Maintaining the drainfield helps to protect and extend the life of your septic system. Some tips include:
-Avoid parking or driving over the drainfield.
-Keep plants and trees away from the drainfield.
-Turn downspouts away from the drainfield.
For more information and service, call Action Septic Tank Service at 770-922-1434 and visit our website at
Action Septic Tank Service is located in Alpharetta, GA, in North Fulton County. We continue to service Metro Atlanta/North Atlanta for over 25 years. We are open daily from 7 AM - 9 PM and also provide emergency service.
Septic pumping, septic cleaning, maintenance, inspections, installations, line repair and replacement, drainfield repair and replacement, hydro jetting, sewer line cleaning, sewer line repair and replacement, dry wells, alternative systems, backhoe work, backflow prevention, excavating, septic treatments, grease trap cleaning and care
Cherokee County, Cobb County, DeKalb County, East Cobb County, Fayette County, Forsyth County, Fulton County, Gwinnett County, North Fulton County, South Forsyth County, West Cobb County