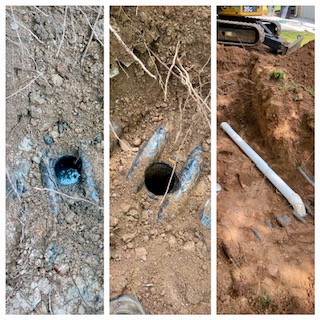 Action Septic Tank Service repaired these drainfield lines in Roswell.
We found the chambers were exposed and water was inside the hole. The next set of chambers were dry and there was no water. The water wasn't making it from the first run to the second which caused the tank to overfill. To repair, we reconnected the lines. Now the water correctly pushes over into the next line.
Action Septic Tank Service is located in Alpharetta, GA, in North Fulton County. We continue to service Metro Atlanta/North Atlanta for over 25 years. We are open daily from 7 AM - 9 PM and also provide emergency service.
Septic pumping, septic cleaning, maintenance, inspections, installations, line repair and replacement, drainfield repair and replacement, hydro jetting, sewer line cleaning, sewer line repair and replacement, dry wells, alternative systems, backhoe work, backflow prevention, excavating, septic treatments, grease trap cleaning and care
Cherokee County, Cobb County, DeKalb County, East Cobb County, Fayette County, Forsyth County, Fulton County, Gwinnett County, North Fulton County, South Forsyth County, West Cobb County